By Maud Kersnowski Sachs
A 50-inch, bronze statue of a pony-tailed, elementary schoolgirl is New York's latest It-Girl. Even with a snowstorm moving in, the "Fearless Girl" statue in Lower Manhattan had a line of people waiting to a snap photo with her. Every now and then someone throws in, "As long as we're here, let's take picture with the bull." Otherwise, Wall Street's famous charging symbol is ignored. Kids, women, and men plant their feet next to the girl's high tops, hands firmly on hips, chest out, chin up and smile.
When the statue appeared on morning of International Women's Day, my response was "Hell, yes!" My second thought was, "It's a girl…a child, not a woman."
But I've seen that stance on my own nine-year-old girl. When she's standing up for something she believes in. When she's making herself heard regardless of what anybody else thinks.
The thing about girls is that they're us before. Before we were told science was for boys or that girls aren't good at math. Before we got the message that boys would like us better if we weren't so smart. Girls are us before we started thinking we were fat. Before we started worrying about that mole. Before we discovered that some part of our body wasn't perfectly symmetrical. Girls are us before whatever it was that eventually sent us scrambling for therapy took hold. And let me tell you the most wonderful thing about girls: They're pains in the ass.
For one thing, they're bossy. Yes, I said it. "Bossy." I know we're not supposed to use that word. I've never called my daughter that, but I've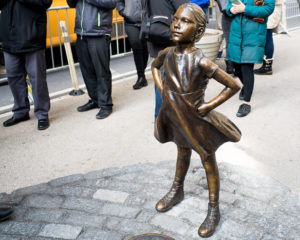 thought it. It's one of those gender-charged putdown words, used to describe the girl who always has her hand up, who always has an opinion, who always has a plan. Bossy is the girl who's testing her limits. Bossy is the girl who stands up for herself and for others. "Fearless Girl" is bossy, and I love her for it.
I felt like something had happened when her photo started popping up on Facebook. And I wanted something to happen that day. The Day Without Women strike was a great idea, but the reality of it was that it felt like an action for the privileged, not for wage-earning women, not for stay-at-home moms, not for women taking care of aging family members. I wanted that groundswell of love that we all felt at the Women's March. And at first, "Fearless Girl" gave me some of that.
But after the initial feel-good moment, many of us began deconstructing her origin story. She was installed by State Street Global Advisors, the third largest asset management fund, which is worth over $2.5 trillion. Advertising giant McCann Ericson was responsible for the "campaign." McCann has spent decades tapping into the cultural moment to create icons that sell products: Coke's "It's the real thing" and MasterCard's "There are some things money can't buy. For everything else, there's MasterCard." Both are McCann credits. This wasn't the guerrilla art I longed for. It was advertising.
But is this advertising for good, like Smoky the Bear? Or advertising for empty calories, like Ronald McDonald?
The same day "Fearless Girl" was installed, State Street sent out 3,500 letters asking companies to take steps to have at least one woman on their boards of directors. Women hold only 10.6% of the board seats for Fortune 500 companies. A quarter of companies have no women on the board at all. State Street's eleven-person board of directors has only three women, better than average, but not by much.
State Street has not specified what they will do, if anything, should their request be ignored.. "We're not going to always automatically vote against the company, but we want to make sure there are tangible, concrete measures they are taking," Lori Heinel, State Street's deputy global chief investment officer, told Business Insider.
Until stories about the statue started flooding social media, many of us of had never heard of State Street Global for all its trillions. Nor have many of us heard of the top-ranked asset management firm Blackrock, which controls over twice the amount of capital that State Street does. Blackrock has four women on its nineteen-member board. Vanguard, in the number two slot, has two women on a ten-person board. But neither is putting up statues or sending out letters.
This isn't State Street's first step into the gender equality wars either. The statue is that latest, and most public, installment of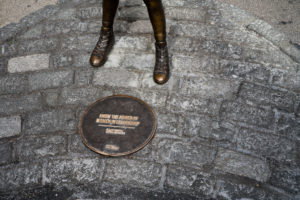 a push that launched last year when the company unveiled an index fund with the ticker name SHE. SPDR® SSGA Gender Diversity Index ETF tracks companies with high gender diversity, particularly in upper management and the board of directors. The plaque at the statue's feet carries the SHE logo and "Know the power of women in leadership."
State Street's push for women in upper management isn't all about altruism and doing the right thing. Sorry to say it, but you get don't trillions of dollars by being ethical all the time. State Street has done their research, and what they've come up with is that companies with a significant number of women at the top make more money.
So, are they playing us? Using feminism to sell themselves, like  Dove and Audi, only this time it's a warm and fuzzy stock index fund? Most importantly, do we care as long as long as the messaging is attractive? We didn't mind all that much with Dove, and the jury still out on Audi.
As they pass her on the way to work, can "Fearless Girl" change the hiring practices of Wall Street executives? Perhaps. The Dove campaign certainly pushed forward the acceptance of beauty beyond the model body type. As important as words are, the decision center of the brain works on images, not words. And there is a lot to love about the "Fearless Girl" image. Maybe with enough repetition, this visual, combined with words and actions, will make a difference.
But we've got a part to play, too. State Street has flipped on the lights in boardrooms. They've taken a head count. They're invited us to hold them accountable. For "Fearless Girl" to make any difference at all, we all–men and women–need to be bossy, pains in the ass for corporate America. Otherwise, she really is just advertising.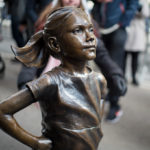 "Fearless Girl" by Kristen Visbal will be installed in Bowling Green in Lower Manhattan until April 8, 2017. There is a petition to make the statue a  permanent companion piece to "Charging Bull."
Photos by Ken Kosakoff / 11Leaf.com
Save
Save
Save
Save
Save
Save
Save
Save
Save
Save
Save